Barbara Sears
Partner Strategic Health Care – Ohio, North Carolina, Washington, D.C.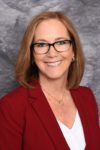 Barbara Sears is a Partner in the national consultancy Strategic Health Care. Prior to joining firm, she served as the Director of the Ohio Department of Medicaid, Ohio's first cabinet-level state Medicaid agency.
The department became a cornerstone of the Governor's Office of Health Transformation, which Governor John Kasich created in 2011. In conjunction with the Office of Health Transformation, the Ohio Medicaid team implemented a series of innovative policy initiatives that modernized the Medicaid program by improving the quality of health services. Sears also served as Assistant Director for the Governor's Office of Health Transformation. In this role she led high priority projects to advance Medicaid modernization and cost containment initiatives.
Previously, Sears represented the 47 th House District in the Ohio House of Representatives. While a legislator, she served as the Majority Floor Leader, Chair of the House Insurance Committee and Chair of the Joint Medicaid Oversight Committee. Most of her legislative and policy work focused on the state's health and human services, including Medicaid and unemployment reforms. Sears has been honored with over two dozen 'legislator of the year' awards and lifetime achievement awards.
For several years, Sears actively participated in a variety of national organizations including the National Association of Health Underwriters (NAHU), National Conference of State Legislatures (NCSL), The Council of State Governments (CSG), and American Legislative Exchange Council (ALEC). She was a sought-after speaker and panelist and focused on Medicaid and health transformation. Additionally, Sears continues to present at various foundations and organizations on Medicaid policy and the integration of social determinants of health and work and community engagement.
Sears entered public service in 1997 when she was elected to Sylvania City Council. She served on city council for ten years, the last four as President of Council and Chair of Finance. Additionally, she chaired the Toledo Metropolitan Area Council of Governments. Sears was also an active health and life insurance agent and small business owner from 1985 to 2016.
Sears has two grown sons and three amazing grandchildren and resides in both Ohio and North Carolina.