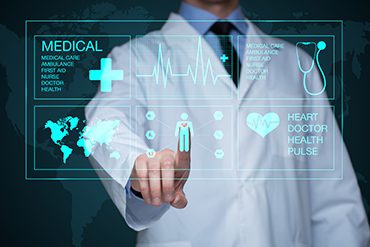 22 May

Weekly E-bulletin
Moody's: Hospital Margins Generally Positive
Hospital margins are generally positive, according to a new report from Moody's. The industry's positive margin in 2016 was 5.7 percent, a slight decline from 6.1 percent in 2015. Margins and liquidity "remain in-line with historical levels while demand trends remain generally positive," the agency said. Not surprising, drug and labor costs weigh down performance. The industry's expenses grew 7.5 percent last year. And while hospitals are still profitable as a whole, Moody's predicts their margins will come under more pressure in the coming years as providers spend more on salaries, pensions and for pharmaceuticals. Click here for the report.
Joint Commission Urges Hospitals To Fight CMS Accreditation Disclosure Plan
In CMS' Inpatient Prospective Payment System proposed rule is a change that would require all accrediting organizations with Medicare deeming authority to make full accreditation survey reports of all organizations they accredit, including deficiency and follow-up data, available on their public websites. The Joint Commission sent a letter to hospitals last week urging them to respond to the proposal. The Commission states that they are "concerned that publishing accreditation reports would diminish the trusting relationship" between the Commission and the hospitals that they survey. Click here for the Joint Commission letter, and here for the CMS fact sheet on the proposed rule. Comments are due to CMS by June 13.
CBO To Release Analysis of House-Passed Health Care Reform Bill on Wednesday
This Congressional Budget Office analysis will be the 'definitive' word on how the House's repeal and replace legislation will impact the number of insured, the deficit, and a number of other major issues. It is a big deal. Click here for an excellent summary as to why. There is a chance that the House would have to vote on a revised AHCA again, if the CBO analysis shows that the legislation with its new amendments actually increases the federal deficit. Click here here~~.
CMS' Innovation Center to Expand CPC-Plus into Four More States
CMS' Innovation Center announced last week its Comprehensive Primary Care Plus model would expand to Louisiana, Nebraska, North Dakota and the Greater Buffalo region of New York. CPC+, which launched in January, means Medicare, Medicaid and private insurers will pay primary care practices treating Medicare patients an estimated $15 or $28 per patient – in addition to their fee-for-service payments – as an incentive to help keep chronically ill patients out of the hospital. The more advanced track of the model requires medical practices to work with health IT vendors to improve their practices. Click here for the CMS announcement.
CMS Again Delays Cardiac Bundle and CJR Changes
CMS is delaying the start date for two of its bundled payment programs in an effort to provide additional time to review and prepare for the initiatives. CMS has issued three-month delays for the start of the Comprehensive Care for Joint Replacement pilot (CJR), the Cardiac Rehabilitation Incentive Payment Model, and three other Medicare cardiac care payment programs originally announced in December of 2016. Click here~~ for the rule making the delay. Click here for a detailed news summary.
More Studies Show Favorable Impact of Medicaid Expansion
New studies show that the Affordable Care Act continues to have a favorable impact on the nation's health. Specifically, more preventive care and improved self-reported health. The researchers compared Arkansas and Kentucky – both of which expanded Medicaid through the ACA – and Texas, which didn't accept the optional expansion. What they found across all three states was that people who gained health coverage saw:
– A 41-percentage-point increase in having a usual source of care – A 23-percentage-point increase in "excellent" self-reported health
Newly insured Americans also reported a $337 cut in annual out-of-pocket spending. Click here~ for details.
New Meth Surge Underway Across the Country
The opioid epidemic has killed tens of thousands over the last two years and driven major reforms in state and local law enforcement and public health policies for people with addiction. But another deadly but popular drug, methamphetamine, also has been surging in many parts of the country. And federal officials say that, based on what they learned as opioids swept the U.S., methamphetamine is likely to spread even further. Click here~~.
Bipartisan Legislation Would Expand Reimbursement for Treatment Centers
Six senators from both parties last week introduced legislation to ease longstanding federal restrictions on Medicaid reimbursement for substance abuse treatment centers. Sens. Dick Durbin (D-IL), Rob Portman (R-OH), Sherrod Brown (D-OH), Shelley Moore Capito (R-WV), Angus King (I-ME), and Susan Collins (R-ME) say it would expand access to care amid a nationwide opioid epidemic. The bill would allow substance abuse treatment centers with as many as 40 beds to be reimbursed by Medicaid for up to 60 consecutive days. The proposal would end a decades-old law prohibiting Medicaid from paying for patient care at facilities with more than 16 beds. Click here~ for details.
Senators Urge Administration to Allow Drug Importation to Bring Down Costs
Sens. Chuck Grassley (R-IA), Amy Klobuchar (D-MN), and John McCain (R-AZ) in a letter last week urged the Trump Administration to use its authority to allow drug importation and help bring down the cost of treatments. In the letter to OMB Director Mick Mulvaney, the Senators say that the administration can make use of a 2003 law that allows the FDA to allow importation of less costly medications from Canada if the HHS secretary certifies the practice would post any additional public health risks while resulting in a significant reduction in costs. To read the letter, click here.
GAO Releases Report on Barriers to Telehealth
The U.S. Government Accountability Office (GAO) last week released a report that shows that the low uptake of telehealth services may be due to regulatory restrictions and inadequate reimbursement and payment methods. The GAO found that Medicare, with many beneficiaries in rural areas, lags behind other federal programs in implementing telehealth services. Click here the report.
Bills Would Repeal Ban on Physician-Owned Hospitals
Sen. James Lankford (R-OK) introduced legislation last week, that mirrors a bill by Rep. Sam Johnson (R-TX) introduced in February, that would repeal the ban on physician-owned hospitals that was enacted in 2010 as part of the Affordable Care Act. Hospitals and many lawmakers from both sides of the aisle say doctor-owned hospitals "cherry pick" lucrative patients and leave the more difficult cases to community facilities. On the other side, the Physician Hospitals of America says physician-owned hospitals care for all patients, including the uninsured, and provide needed competition in the hospital sector. For the text of the bill, click here~ and for a summary from the legislation's sponsor, click here~~.
Senate Committee Passes CHRONIC Care Act
The Senate Finance Committee has unanimously passed its bipartisan chronic care bill, intended to improve health care and outcomes for Medicare beneficiaries with chronic conditions. The legislation eases telehealth restrictions, improves flexibility within Medicare Advantage and accountable care organizations (ACOs) to manage patients' chronic conditions, and expands the Independence at Home (IAH) demonstration. The bill is expected to pass the full Senate soon and is also expected to pass the House later this year. To read the bill summary, click here~. To view the hearing and select testimonies, click here, to view the markup, the bill and amendments, click here~.
CMS Announces New Enrollment Pathways for Exchanges; Subsidies Under Assault
Consumers shopping for health insurance coverage through exchanges that use HealthCare.gov will be able to enroll via web brokers or an insurer's own website using a new "proxy direct enrollment pathway" in 2018, meaning they will be able to enter personal and financial information and receive an eligibility determination without being redirected to HealthCare.gov. The new process will only be available for straightforward enrollments and will require consumers to set up their own HealthCare.gov accounts. Click here for details.
House Panel Follows Senate and Passes FDA User-Fee Bill
A key House subcommittee last week advanced a Food and Drug Administration User-Fee Bill with bipartisan amendments related to medical devices and drug safety. The House bill (HR 2430) would reauthorize the FDA's ability to collect fees from the drug and medical device industries which expires at the end of September. The subcommittee approved four bipartisan amendments, including one designed to increase generic drug competition to address price hikes of older drugs like Mylan's EpiPen. Lawmakers also approved an amendment that would establish a category of FDA-approved over-the-counter hearing aids. The full committee is expected to pass it this week. Click here~ to watch the markup and view the bill documents.
MedPAC Chief Smacks Home Health, SNFs
The Medicare Payment Advisory Commission's (MedPAC) Executive Director, Mark Miller, told a key House subcommittee that the federal government could have saved $11 billion by now had it implemented MedPAC's 2008 payment update recommendations for home health agencies and skilled nursing facilities, which see profits on Medicare patients exceeding 15% on average. MedPAC did recommend rate increases for some categories, including 1.85% for hospitals, yet Miller stated it is "imperative" Medicare restrain payments for all types of facilities. To view the hearing and read Mr. Miller's testimony, click here~.