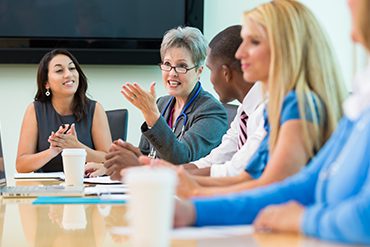 10 Apr

Weekly E-bulletin

April 10, 2017
1,000 Hospitals Receive Healthgrades Patient Experience and Patient Safety Awards
Healthgrades has named nearly 1,000 hospitals to its 2017 Outstanding Patient Experience Award and Patient Safety Excellence Award lists. The awards, which the group gives out each year, are meant to highlight U.S. facilities that either excel in patient experience ratings or have low incidents of patient harm. Healthgrades awarded 443 hospitals received the Patient Experience Award using the Hospital Consumer Assessment of Healthcare Providers and Systems surveys to gauge how highly patients rank them. According to Healthgrades, the awarded hospitals represent the top 15 percent in the nation.  Click here to see the safety award recipients.  Click "here":http://www.healthgrades.com/quality/outstanding-patient-experience-award-recipients-2017 for the patient experience awards. (They are listed by state.)
GOP Keeps the American Health Care Act Alive
Before leaving for a two-week recess, the House Rules Committee added a new amendment to the American Health Care Act, the bill to repeal and replace the Affordable Care Act, that would create a "Federal Invisible Risk Sharing Program" signaling that the bill may still come to the House Floor for a vote.  This program is intended to reimburse individual market insurers for high-cost enrollees.  The amendment would set aside $15 billion for the program between 2018 and 2026 and would give states the authority to determine the specifics of the programs.  Click here  the amendment, and "here":http://rules.house.gov/sites/republicans.rules.house.gov/files/115/AHCA/Section-by-Section.pdf for a summary of the amendment.  Click "here":http://mobile.nytimes.com/2017/04/06/us/politics/health-care-affordable-care-act-house.html?em_pos=small&emc=edit_cn_20170407&nl=first-draft&nl_art=17&nlid=58480377&ref=headline&te=1&referer for the NYTimes story.
The #2 House Republican, Kevin McCarthy (R-CA), sent a memo to all House GOP members on these developments, including a reminder that members could be called back into session to vote on the health care bill during the recess. Click "here":https://strategichealthcare.net/wp-content/uploads/2017/04/040617-McCarthy-Memo-to-House-GOP.pdf to read the brief memo.
According to a new poll, most Americans (75%) want the Administration to make the ACA work better, rather than take steps to undermine it or allow it to fail. Click "here":http://kff.org/health-reform/poll-finding/kaiser-health-tracking-poll-april-2017-the-fall-of-the-ahca-and-next-steps-for-the-aca/?utm_campaign=KFF-2017-April-Tracking-Poll&utm_source=hs_email&utm_medium=email&utm_content=2&_hsenc=p2ANqtz-9aF9oe1MeGdOPWqCT9PMFNE-l3ju_2pM1oEXyqGZ9S1hIckhIN8_-b9oJ3v7KScuSm7ny4zKC8OW402al-g8XXvT_40g&_hsmi=2 to view the results.
Some Health Plans Find Profit on the Obamacare Exchanges: S&P
A new analysis by Standard & Poor's (click "here":https://strategichealthcare.net/wp-content/uploads/2017/04/040717-SP-Report-on-Individual-Insurance-Market.pdf) looked at the performance of many Blue Cross plans in nearly three dozen states since President Barack Obama's health care law took effect. It shows the insurers significantly reduced their losses last year, are likely to break even this year and that most could profit — albeit some in the single-digits — in 2018. The insurers cover more than five million people in the individual market. Click "here":http://www.nytimes.com/2017/04/07/health/insurers-stem-losses-and-may-soon-profit-from-obamacare-plans.html?hpw&rref=health&action=click&pgtype=Homepage&module=well-region&region=bottom-well&WT.nav=bottom-well for the NY Times story.
Aetna and Wellmark announce they are leaving the Iowa exchange market.  Click "here":http://globegazette.com/news/local/aetna-to-leave-iowa-health-insurance-exchange/article_2fd8256f-040f-59ac-89da-16d92629f2fa.html.
CMS Chooses 32 Organizations for Its Accountable Health Communities
CMS has announced the 32 participants for the Assistance and Alignment Tracks of the Accountable Health Communities (AHC) Model. By addressing critical drivers of poor health and high health care costs, the model aims to reduce avoidable health care utilization, impact the cost of health care, and improve health and quality of care for Medicare and Medicaid beneficiaries. Click "here":http://innovation.cms.gov/initiatives/ahcm/ for details, here the participants' list.
h5. MedPAC Votes on Part B Drug Payments and PAC PPS
The Medicare Payment Advisory Commission last week voted on recommendations for Medicare Part B drug payment policies and a unified post-acute care (PAC) prospective payment system.  Although some voiced concern over the drug payment recommendations, MedPAC agreed that drug companies should pay a rebate when the average sales price of their products increases faster than an inflation benchmark. Additionally, Commissioners voted unanimously to include recommendations on a unified Post-Acute Care payment system in the June report to Congress including:
Implement a PAC PPS beginning in 2021 with a three year transition;
Lower aggregate payments by 5%, absent prior reductions to the level of payments;
Concurrently, begin to align setting-specific regulatory requirements; and
Periodically revise and rebase payments, as needed, to keep payments aligned with the cost of care.
Click" here ":https://strategichealthcare.net/wp-content/uploads/2017/04/040717-MedPAC-April-2017.pdffor our policy team's excellent executive summary.
MACRA Impact on Hospitals Is Bigger than Expected
The RAND Corporation has published an analysis on how MACRA will impact Medicare spending on physicians and hospitals. Their findings, published last week in Health Affairs, indicate that cuts in Medicare payments to hospitals could be as high as $250 billion by 2030 because of how physicians respond to the incentives built into the payment models. The analysis estimated that MACRA will decrease Medicare spending on physician services between $35 billion to $106 billion (-2.3 percent to -7.1 percent) and change spending on hospital services by a positive $32 billion to a loss of $250 billion (0.7 percent to -5.1 percent) between 2015 and 2030. Click "here ":http://content.healthaffairs.org/content/36/4/697.abstract?rss=1for the Health Affairs abstract.
Our APM Plus team of experts is helping hospitals and physician practices prepare for MACRA. Click "here":http://apmplus.net/.
Home Health Pre-Claim Review Requirement Put on Hold
After pressure from Home Health Agencies, on March 31st CMS announced it has paused the home health pre-claim review demonstration for at least 30 days in Illinois, and will not expand the program, as planned, to Florida in April.  Last year, CMS indicated in a Paperwork Reduction Act notice that it was interested in implementing a prior authorization requirement for home health claims in five "high risk fraud states" – Florida, Texas, Illinois, Michigan and Massachusetts. Home health companies and some beneficiary advocates criticized that proposal, and a bipartisan group of 116 House lawmakers asked CMS to withdraw the proposal.  CMS stated that it plans to under normal processing rules.  Click "here":http://www.cms.gov/research-statistics-data-and-systems/monitoring-programs/medicare-ffs-compliance-programs/pre-claim-review-initiatives/overview.html for the announcement from CMS.
There's Been a Worldwide Decline of Childhood Mortality: Study
According to a new study of 195 countries published in JAMA Pediatrics, the number of deaths among children and adolescents  decreased from nearly 14.2 million deaths in 1990 to just over 7.2 million in 2015. The progress is irregular in different parts of the world. Predictably, countries with lower levels of income, education and fertility showed a greater share of the deaths. The most deaths occurred in South Asia and sub-Saharan Africa.  To read the entire study, click here.
Small Boost for MA Plans in 2018
CMS announced last week that Medicare Advantage plans will receive a .45 percent increase in funding for 2018, slightly more than the .25 percent increase proposed in February.  Additionally, CMS announced how they will evaluate "encounter data."  The agency plans to base 15 percent of the MA funding formula on encounter data, down from 25 percent as it initially proposed.  For the most part the final rate notice is largely unchanged from what CMS proposed in February.  Medicare Advantage is a roughly $200 billion per year business and covers about a third of all Medicare beneficiaries. In the same announcement CMS issued a request for information about ways to improve the private Medicare program. Comments are due April 24. Click "here":http://www.cms.gov/Medicare/Health-Plans/MedicareAdvtgSpecRateStats/Downloads/Announcement2018.pdf for more from CMS.
Key Senator Raises More Ethics Concerns with New CMS Administrator
Sen. Ron Wyden (D-OR) continues to raise concerns over CMS Administrator Seema Verma's potential conflicts of interest stemming from her prior job as an Indiana-based health care consultant. In a letter sent last week to HHS Acting General Counsel Jeffrey Davis, the top Democrat on the Senate Finance Committee laid out questions about potential ethics issues between Verma and Health Management Associates, a national health care firm that acquired her consulting shop after she was confirmed to lead CMS. Click "here":http://www.finance.senate.gov/ranking-members-news/wyden-expands-request-to-hhs-to-ensure-verma-complies-with-ethics-agreements for the letter.
Congress Sends President Bill to Extend Veterans Choice Program
Congress has passed legislation that would extend the Veterans' Choice Program past its expected August expiration sending it to the President for his signature.  The bill would eliminate the August sunset date for the program and allow the VA to spend the nearly $1 billion in leftover funding dedicated to Choice.  The program was created in 2014 with $10 billion in emergency funding to subsidize non-VA care for veterans who face lengthy wait times for medical appointments or live long distances from a VA medical facility.  The bill also would eliminate a requirement that VA act as the secondary payer under the program.  To view the bill text, click here.
Hospitals Propped Up by Medicaid Expansion: Study
Hospitals in ACA Medicaid expansion states had an improved payer mix and better financial outlook than those in non-expansion states, according to a new Urban Institute analysis of data through fiscal year 2015. The disparity was especially significant in remote areas and at facilities with fewer than 100 beds. The expansion increased Medicaid revenue by $5 million per hospital while reducing costs of uncompensated care by $3.2 million and improving average operating margins by 2.5 percentage points. Additionally, the study found that small hospitals, for-profit and non-federal-government-operated hospitals, and those in non-metropolitan areas saw the strongest gains in profit margins. Click "here":http://www.rwjf.org/en/library/research/2017/04/how-has-the-aca-changed-finances-for-different-types-of-hospital.html?cid=#VALUE! to read the report.
CDC: Zika is Still a Threat, Especially for Pregnant Women
Approximately 10 percent of U.S. women with a confirmed Zika infection during a pregnancy last year had a baby with a virus-related brain defect, according to a new report put out by the Centers for Disease Control and Prevention. The chances of birth defects grew for babies whose mothers were infected with Zika during the first trimester of their pregnancies. About 15 percent of the first trimester group reported birth defects. Though attention to Zika has declined over the winter since last year's outbreak, the CDC is warning that the threat of infection will remain high as the weather gets warmer and mosquito season approaches. To view the full report on the CDC website, click here.
Senators Reintroduce Chronic Care Bill, Allows More Telehealth Funding
Legislation was reintroduced last week by leaders of the Senate Finance Committee that would overhaul how Medicare pays for patients with chronic illnesses, including allowing more telehealth funding. There were no significant change in the legislation from last Congress, which was originally introduced in December. The bill is sponsored by Finance Committee Chairman Orrin Hatch (R-Utah) and Ranking Member Ron Wyden (D-Ore.)  The bill is based off of a study that Committee staff conducted in 2015. Click "here":http://www.finance.senate.gov/imo/media/doc/CHRONIC%20Care%20Act%20of%202017%20Introduced.pdf for the legislation, "here ":http://www.finance.senate.gov/imo/media/doc/CHRONIC%20Care%20Act%20of%202017%20-%20Section%20By%20Section%20Summary%204.3.17.pdf for a section-by-section of the bill, and "here":http://www.finance.senate.gov/imo/media/doc/CCWG%20Policy%20Options%20Paper1.pdf for the Finance Committee study.
Efforts Underway to Keep Mentally Ill Out of Jail
There are now more than 300 mental health courts across the United States, in which defendants deemed mentally ill are directed to mental health treatment services rather than incarceration. Some jurisdictions, such as Maryland, allow for mental health competency exams to occur in community settings, so that defendants don't have long waits for space at state hospitals, where the exams usually take place. And in Florida, Miami-Dade County gives some mentally ill defendants suspected of misdemeanors or nonviolent felonies the option of treatment rather than jail or prison time. Click "here":http://www.pewtrusts.org/en/research-and-analysis/blogs/stateline/2017/04/07/getting-the-mentally-ill-out-of-jails?utm_campaign=2017-04-07+Stateline+Daily&utm_medium=email&utm_source=Pew for a Pew report on the effort to remove the mentally ill from incarceration.
Registration now open for National Summit on the Social Determinants of Health
Join The Root Cause Coalition on October 9-10th in Louisville, Kentucky for the 2nd Annual National Summit on the Social Determinants of Health. The robust two-day agenda will bring together representatives from healthcare, the non-profit sector, the faith community, researchers, clinicians, government leaders, and businesses to share best practices, offer community connections and resources, and engage in the crucial discussion of how to best address the social determinants of health. To learn more about the Summit and register, click" here":http://s1.goeshow.com/root_cause/annual/2017/registration_form.cfm.
NCQA To Require Annual Evaluations for PCMH Recognition
The National Committee for Quality Assurance (NCQA) has redesigned its Patient Centered Medical Home recognition program. Perhaps the biggest change: annual evaluations instead of every three years. NCQA has also created a toolkit to help provider groups determine if the medical home model might be a good fit for their practice. Click "here":http://www.ncqa.org/programs/recognition/practices/patient-centered-medical-home-pcmh?utm_source=announcement&utm_medium=pressrelease&utm_campaign=redesign for more. Click "here":http://www.ncqa.org/programs/recognition/practices/patient-centered-medical-home-pcmh/toolkit?utm_source=announcement&utm_medium=pressrelease&utm_campaign=redesign for the toolkit.
FDA OKs Genetics Tests for Consumers from 23andMe
The Food and Drug Administration last week granted approval to genetic testing company 23andMe to offer such direct-to-consumer tests for 10 conditions, including Alzheimer's. Click "here":http://www.statnews.com/2017/04/06/genetic-test-alzheimers/.
More Hospitals Offering the Food of Choice!
Believe it or not, hospital cafeteria's are becoming restaurant of choice in many communities.  This on-line food magazine explains why.  Click "here":http://food52.com/blog/19426-why-people-are-choosing-to-eat-at-hospitals.