Britnee Dorn, MHA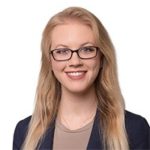 Executive Assistant
Britnee supports Paul Lee, Senior Partner & Founder, as his executive assistant and office manager in the Washington, D.C. office. In addition to this, she also serves as the Internship Program Director for Strategic Health Care's internship program.
Britnee came to Strategic Healthcare in 2018 with seven years of professional experience in dental and medical clinical administration. Prior to joining Strategic Health Care, she managed high-production specialty offices and worked in a series of file-sharing systems & databases, as well as managed high priority projects for clients during that time.
Britnee has a Bachelor's of Science in Health Information Management from Marymount University and earned her Master's in Healthcare Administration from Louisiana State University Shreveport. Additionally, Britnee teaches at Marymount University as an adjunct faculty member in the School of Business and Technology.